SPECIAL TO THE USSJRP WEBSITE
---
50th Anniversary of the Unveiling of the John Barry Statue
Wexford Ireland Bay
June 17th & 18th, 2006

Contributed and as told by Frank Busch, York, Pennsylvania
The 50th anniversary of the unveiling of the John Barry Statue was held June 17th and 18th, 2006 at Wexford Ireland Bay. Sailors of the USS John R. Pierce were asked to send pictures and mementos of the 1956 visit by the Pierce. A few men did, including me (I sent 23 pages of my scrapbook for display!).
On the 17th, we had a great celebration at the Chamber of Commerce building, organized by the Wexford Friends of the Tall Ships and headed by the dynamic, energetic Ann and Michael Murphy. Without their generosity and leadership this would not have been possible. I would not have attended without their encouragement and friendship. Others involved were Michael's two sons and daughter, Frank Murphey, Ex-Mayor Padge Reck, Ex-Mayor Philomena Roche, and current Mayor, Tommy Carr. There were many others, but my aging mind fails me.
On the 18th, we experienced the "laying-of-the-wreath" at the base of the statue. There were six dignitaries from the United States and many more from Ireland. There was a banquet at the Hotel Talbot after the ceremony. A local pub changed its name to the John Barry Pub and one of my pictures will be featured there.
You can download news articles and pictures by contacting photgrapher Sean Dempsey at seanfreepress@yahoo.ie or Michael Murphy at wftallships@eircom.net


Sincerely,


Frank
frankbusch@netrax.net
E V E N T I M A G E S
[ Click the image below for County Wexford Free Press Article on the Event ]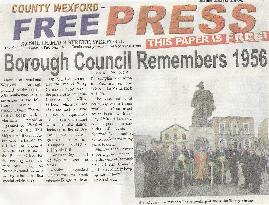 [ Click each pic below for an enlarged photo! ]